A world-renowned photographer is building a studio in Smíchov with a breathtaking view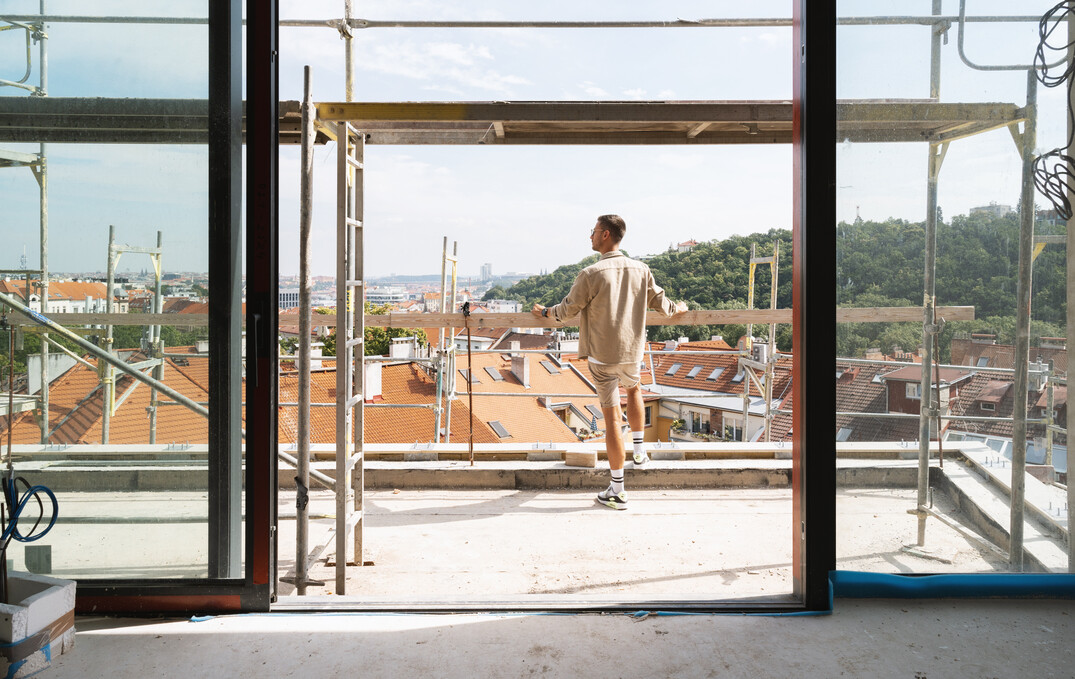 What started years ago as an escape from reality has turned into international recognition and success through talent, hard work and passion. And even though in a few days he will receive the prestigious prize for 1st place in the International Photography Awards at Carnegie Hall in New York and he is building a new inspiring studio with a breathtaking view in Smíchov, Prague, photographer Martin Stranka remains with his feet firmly on the ground.
"With joy and a smile on my face, I can say that so much has not happened around our studio for a long time. We spent the summer in the south of France in Cannes and Saint Tropez, where the new photo project Normal Is Boring is being created. However, the main event is now around the Beautiful series Accidents, which a few days ago won 1st place in the prestigious International Photography Awards from 120 countries around the world. For the Photographer of the Year trophy, we fly all the way to New York to the beautiful Carnegie Hall in Manhattan. It's an incredibly electrifying and grateful feeling to achieve such success after 10 years. And to make matters worse, after 11 years we are moving with the Vinohrady studio to the new address of the Erbenova Rezidence."
Why did you choose the Erbenova Rezidence for the studio?
"Prague is a wonderful place that became close to my heart twenty years ago. Vinohrady is a beautiful place, but due to the growing studio, it was time for us to move to a bigger and more inspiring place. The current studio is on the ground floor, and there are many disadvantages associated with that. Erbenova Rezidence is an inspiring project with a unique architectural solution, situated on a slope and thus a wonderful view of the whole of Prague. At the same time, it has convenient access from the upper street. This is a combination that would hardly be found elsewhere. Our collectors take away large-format photography, so the accessibility while preserving such a view is absolutely unique. And having such places as Petřín and Kinsky Gardens literally behind the studio is an inspiration for a photographer in itself."
Did you have a clear idea of ​​what the interior would look like from the beginning, or did you let the architect have a free hand?
"Thanks to 15 years of working in the field of photography, we at the studio had a clearer idea of ​​how the dream studio could be conceived from the point of view of functionality. Every month, many people visit us not only from the Czech Republic but also from abroad. It is a space that a large number of people pass through, where, in addition, smaller indoor projects are still photographed. That is why we are grateful for the cooperation with the OOOOX studio and their skilled architects, such as Petr Vlach and the owner Radka Valová. Together, our studio gradually acquires the dream style and amazing functionality."
Is your own creation the biggest inspiration for the interior, or is it carried in a completely different spirit?
"In the studio, we spend literally long hours and days with a team of people every day. It's a place where we and collectors sit over coffee or tea, and talk for long hours about life and art. It has to be an inspiring place where we enjoy spending time. Functionality is a beautiful thing, but it wouldn't be the same without a sense of inspiration. That's why it works both ways. Space can be a great inspiration, just as art can help create the environment you work in. That's what's really wonderful about it, and I'm grateful for that."
What could the studio not do without?
"It will probably feel like an airy space. The current studio in Vinohrady has really high ceilings thanks to the local architecture, which creates this feeling. I'm looking forward to the new studio in Erben's Residence having super-high ceilings, plus a huge amount of daylight thanks to the glass wall with all-day sun. I'm most looking forward to that energy, it will be a beautiful place full of new meetings with friends and our collectors."
What are you most looking forward to when you get the keys from him?
"The feeling I dreamed about at the beginning of my career. I've always wanted a space where there would be photos leaning against the walls all around and beautiful daylight would permeate the space. I've been replaying this vision in my head for many years. The fact that this is happening now is a nice next step forward for my team and me. I feel satisfied, very grateful and committed to the future. We look forward to the feeling of now starting to write a new chapter of our studio with people who have been with us for literally 15 years. I can't put into words how grateful I am for this. It's going to be big!"