Villa Resort Beroun
modern family houses in the arms of nature
Take a look at the model house
Arrange a tour and visit a model house in the beautiful surroundings of the Beroun hills. Take a tour of the house, get to know the quality of its design and the well-thought-out layout and try out how comfortable it will be for you to live in it.
Arrange a tour
Current benefits
Benefits are valid upon conclusion of the contract until the end of 2023
Now with a bank mortgage of 2.99%
Especially for the Villa Resort Beroun project, we managed to negotiate a bank mortgage with an interest rate of 2.99%
Membership of the Royal Beroun Golf Club
Get a permanent membership at the adjacent private golf resort with a 50% discount
Reduction of VAT by 3%
Do not wait for more favourable conditions. You can get the VAT reduction promised by the government from 15 to 12 % with us right now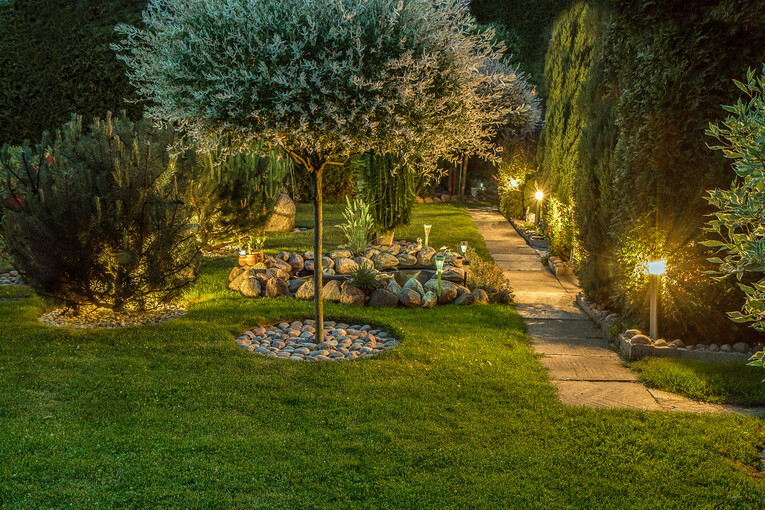 Garden design by an architect
A professional design will transform your garden into an oasis of relaxation
Heat pump included in the price of the house
Saves heating costs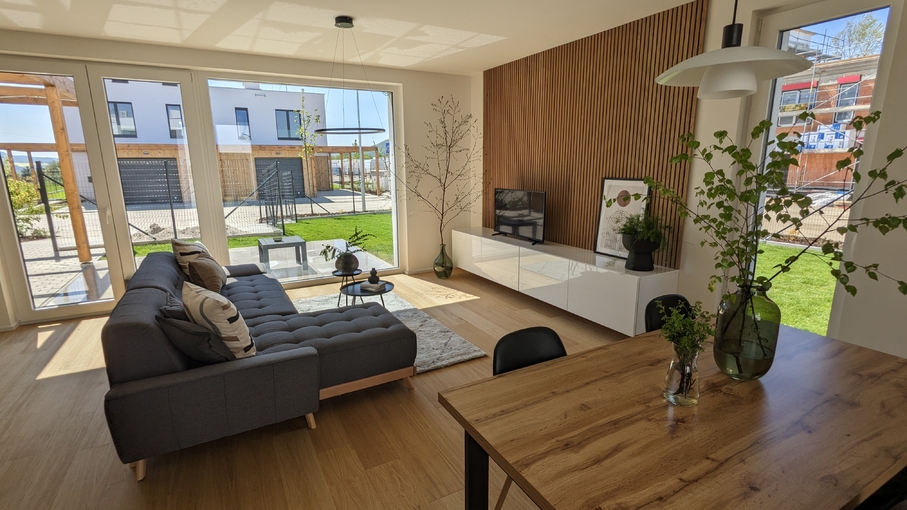 Visit our model home
Come and experience thoughtful and comfortable living
Ideal not only for families
Family houses with 4+kk and 5+kk with an area of 150–188 m2 will be built on a quiet hill next to the golf course. Modern and contemporary architectural solutions and purposefully designed interiors in a high standard of design meet all the requirements for comfortable family living.

In the arms of the city and nature
The place for your new home lies in a beautiful location of the hilly landscape of the Beroun region, on a hill near the golf club. You will appreciate not only the peace and intimacy of living in nature, distant views of the diverse landscape but also the comprehensive civic amenities of the district town.

It takes only 15 minutes by car from the resort to the outskirts of Prague. The bus will take you to the Nové Butovice metro station in 30 minutes. If you prefer to travel by train, you can easily get to the city centre by regular line directly from Beroun railway station.

I want to choose a house
You will like it in Beroun
Villa Resort Beroun is being built in a beautiful and quiet location in close proximity to nature and a prestigious golf resort
The center of regular events and markets, Husovo náměstí is surrounded by historic buildings that give it a medieval flavor
You can easily get to the metropolis and other places by train from Beroun railway station.
Beroun is a great starting point for cycling and hiking. Where will the first one lead? To Karlštejn or to Křivoklát?
The surroundings of Berounka encourage you to take walks, rest and other activities
Children's education is ensured by a sufficient number of kindergartens, primary and secondary schools
The rich history of the royal city, which was founded by Wenceslas II in 1295, is reminded of the Gothic walls
There is no shortage of good food in Berouna. For lunch or dinner, you can go, for example, to the excellent Black Dog restaurant, which gained a reputation here before it opened a branch in Prague.
Berounka is a guarantee of unforgettable experiences. Are you going out on the water?
One of the symbols of the city is the Pilsen Gate with the city coat of arms and a clock
basic information
location Beroun
Characteristic family houses
Disposition and floor area 4+kk, 5+kk
price from 13 290 000 CZK
phase For sale
move in date houses A/B immediatelly, houses C/D in Q1/2024
House selection
Your selection:
Select a house by clicking on the image
Price list
house

disposition

price incl. VAT

již nyní cena vč. 12 % DPH

availability

house:

B1

disposition:

4+kk

price incl. VAT:

15 390 000 Kč

již nyní cena vč. 12 % DPH:

14 988 522 Kč

availability:

available

Detail

house:

B2

disposition:

4+kk

price incl. VAT:

15 090 000 Kč

již nyní cena vč. 12 % DPH:

14 696 348 Kč

availability:

available

Detail

house:

B9

disposition:

5+kk

price incl. VAT:

16 990 000 Kč

již nyní cena vč. 12 % DPH:

16 546 783 Kč

availability:

available

Detail

house:

B13

disposition:

4+kk+G

price incl. VAT:

15 590 000 Kč

již nyní cena vč. 12 % DPH:

15 183 304 Kč

availability:

available

Detail

house:

B14

disposition:

5+kk+G

price incl. VAT:

17 190 000 Kč

již nyní cena vč. 12 % DPH:

16 741 565 Kč

availability:

available

Detail

house:

C2

disposition:

price incl. VAT:

13 340 000 Kč

již nyní cena vč. 12 % DPH:

12 992 000 Kč

availability:

available

Detail

house:

C6

disposition:

price incl. VAT:

13 360 000 Kč

již nyní cena vč. 12 % DPH:

13 011 478 Kč

availability:

available

Detail

house:

C8

disposition:

price incl. VAT:

15 190 000 Kč

již nyní cena vč. 12 % DPH:

14 793 739 Kč

availability:

available

Detail

house:

C10

disposition:

price incl. VAT:

13 320 000 Kč

již nyní cena vč. 12 % DPH:

12 972 522 Kč

availability:

available

Detail

house:

C11

disposition:

price incl. VAT:

13 290 000 Kč

již nyní cena vč. 12 % DPH:

12 943 304 Kč

availability:

available

Detail
Financing
Sign of the reservation contract200 000 CZK incl. VAT
Sign of the future purchase agreement15% of the purchase price incl. VAT (including the original 200 000 CZK incl. VAT)
After approval (after completion of construction)85% of the purchase price incl. VAT
With the signing of the reservation contractthe purchase price will be fixed
We offer financingwith bank mortgage 2.99%
Don't miss the current benefits
Now with a bank mortgage of 2.99% | VAT reduction of 3%
More